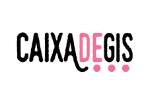 Company Size: 1
Rua Coronel Luna de Oliveira 14 RC esquerdo, Lisboa, 1900-167
Founded: 2008
Gislaine Marques is a copywriter and digital strategist and Caixa de Gis is her professional brand for freelance jobs.
In the past 30 years she has worked for brands such as Coca-Cola Company, Sumol-Compal, SuperBock Group, Bimbo Group, Taag – Angolan Airlines, ABSA Bank Mozambique, Refriango Angola and Casas Bahia (Brazil's biggest retail chain).
Caixa de Gis scope includes digital research & analysis, development of brand persona and buyer personas, creative insight, creative concept, creative campaigns, copywriting for brands and community management. A package of services could include also Social Media Management or other tools as needed.