In 2023, unexpected economic events caused a global recession, significantly impacting various sectors, including the information technology sector. This blog will provide an overview of the causes of the recession, its effects on the information technology industry, and a compilation of recession-resistant IT positions that have proved indispensable during these challenging times.
Impact of the 2023 Recession on the IT Industry
The recession of 2023 has had a significant influence on the IT industry, bringing both problems and possibilities for enterprises in this area. Let us look at some of the most significant ways in which the recession has impacted the IT industry:
1. IT Projects Delayed:
During economic downturns, businesses frequently reduce their budgets and grow wary about investing in new IT initiatives. As a result, many businesses have postponed or cut back their IT activities, resulting in lower demand for IT services and solutions.
2. IT Budget Reductions:
IT expenditures have been slashed and scrutinized as cost optimization has become a focus. Companies may rethink their IT investment, concentrating on critical services while deferring non-urgent expenditures.
3. Job Market Volatility and Layoffs:
The recession has resulted in layoffs in various industries, including the information technology sector. Some IT workers may encounter job insecurity and restricted hiring possibilities, impacting the broader IT sector employment market.
4. Priorities in IT have shifted:
During the recession, businesses are rethinking their IT priorities. Certain technological areas, such as digital transformation, cloud migration, and cybersecurity, will continue to be crucial as companies adjust to remote labor and safeguard their digital assets.
5. Demand for Low-Cost Solutions:
Companies seeking cost-effective IT solutions that provide value and efficiency face budgetary limits. Technology companies that can give cost-effective choices are likely to obtain market momentum.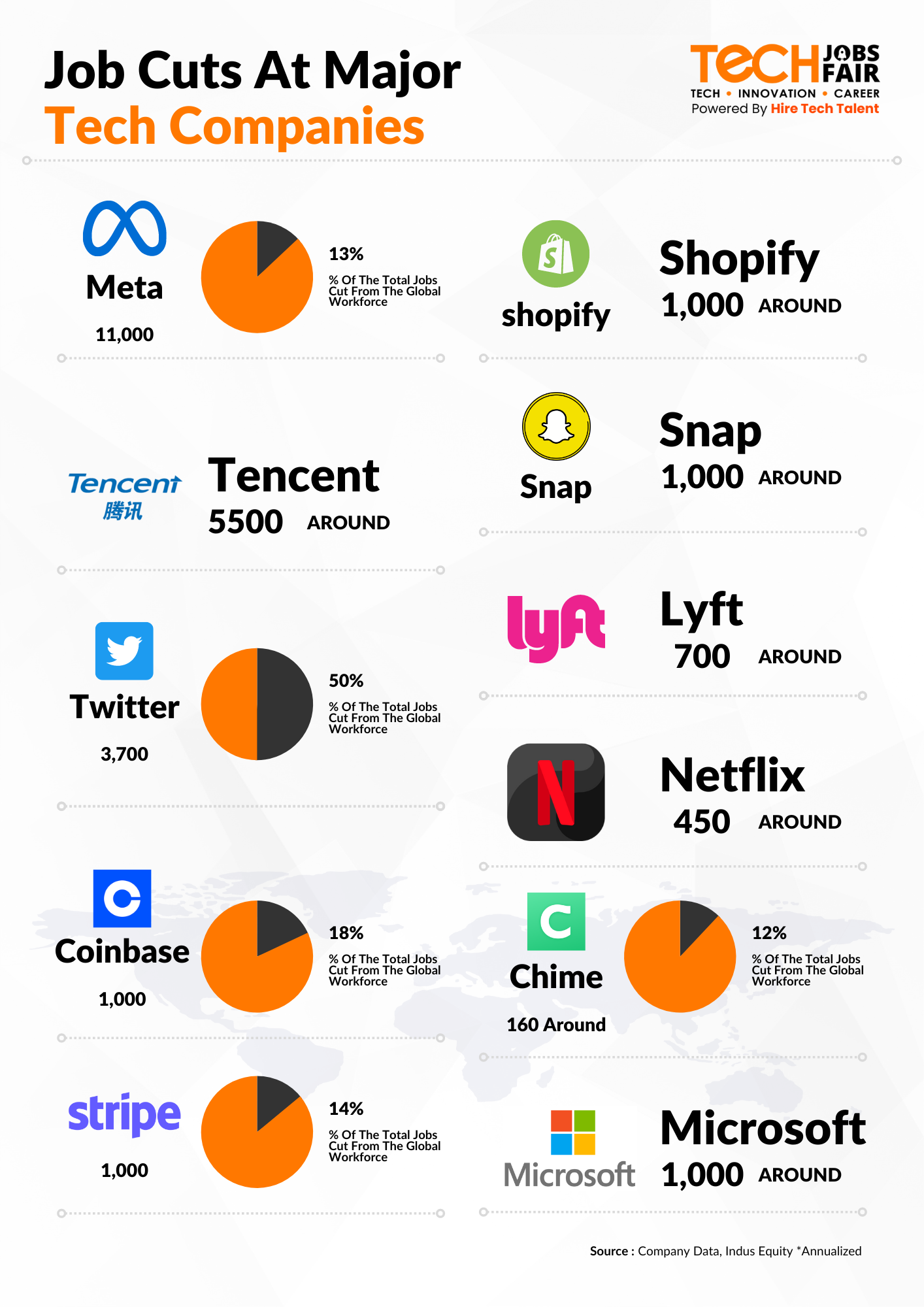 Reasons for the Recession:
A multitude of causes contributed to the 2023 recession, producing a perfect storm for economic depression. While the particular reasons may differ from place to region, the following basic issues have all contributed to the worldwide economic slowdown:
Excessive Debt Many governments and corporations have amassed large amounts of debt, making it difficult to sustain economic development and generating hardship during economic downturns.
Speculative investments and asset bubbles have burst in numerous markets, causing financial instability and investor concern.
An unanticipated economic shock, such as a geopolitical incident or natural tragedy, can create a domino effect, hurting commerce, investments, and consumer confidence.
Rapid technology improvements have disrupted conventional sectors, resulting in employment losses and changes in market dynamics.
Inflationary pressures have reduced buying power, affecting consumer spending and overall economic activity.
How do layoffs work?
An action that your employer may take to end your employment with the organisation is a layoff. A post may be eliminated or an individual terminated from an organisation for various reasons, most unrelated to performance. The employer may decide to terminate an employee's employment for a limited time or permanently.
Top Reasons Behind Layoffs
Several reasons may lead to a company laying off one or more employees. Some points to consider are as follows:
Relocation of the company
Closure of a business
Measures to reduce costs
Mergers
Loss of funds
Project cancellation
Update to position requirements
How do recessions occur?
Excessive debt
Asset bubbles
A sudden economic shock
Deflation is too high
Technological change
A high level of inflation
Let's discuss jobs that can withstand a recession! There is a sense of apprehension about job security whenever a recession is mentioned in the media, and for good reason.
The global economy took a huge hit in 2023 due to the recession. The IT industry wasn't the only one affected. The job market for IT professionals went through several ups and downs, and some positions proved to be more stable during these challenging times. No career is immune to recession, but some IT jobs have remained vital as companies adapted their plans to cope with the economic slowdown.
The recession hit the world hard in 2020, with an estimated 35 million jobs lost worldwide. The IT industry was no exception, and the US, one of the biggest IT players in the world, saw its unemployment rate soar to 14.7% in 2021.
More than 10% of Americans were unemployed during the 2008 crisis, demonstrating the extent of the recession's impact on the labour market. This economic downturn highlighted the significance of critical IT functions for corporate continuity and agility.
Top 10 Recession-Proof IT Jobs
1. ADMINISTRATOR OF CLOUD
Ensuring their company's cloud is operational and running efficiently is highly significant to cloud administrators. Cloud administrators have a lot of responsibility and unpredictable days since they have so much infrastructure to manage. This is not a stance that can be set and forgotten. They must manage cloud services, subscriptions, resources, and storage and provide technical support.
Organisations will use the cloud to power their digital strategy during a recession. This will probably call for a greater focus on cloud vendor management and an improved comprehension of how the cloud may benefit clients. Internally, the emphasis on safe access to cloud services will expand as more people work remotely and travel less. Cloud administrators will be in charge of all of these duties.
2. INFORMATION SECURITY
There weren't enough security specialists to secure firms before the epidemic and recession. Information security cannot be overlooked as budgets become more constrained. Sensitive data and information are easily stolen without qualified security specialists. Because of the recession, cybercriminals and hackers won't put their computers away. Cyberattacks will keep getting worse and more frequent.
Due to the massive increase in remote access to sensitive data by IT experts, the cybersecurity issue has suddenly become more serious. All remote employees must have access to a secure VPN connection to guarantee that their data and databases are safe from hackers.
3. DATA ANALYST
It is anticipated that spending on storage, infrastructure, and cloud services won't suffer significantly during a recession. And that brings with it a flood of fresh data.
IDC's Customer Insights & Analysis division program vice president Stephen Minton asserts that "the amount of data that enterprises must retain and manage is not going anywhere."
This data will be crucial as firms primarily rely on trend analysis and predictive thinking to guide their activities.
IT decision-makers will become aware of the necessity to sort through and analyse data to cover a wide range of needs, from target advertising to security intelligence analysis, if they haven't already.
4. DEVELOPER / PROGRAMMER
Knowing a computer language immediately makes you more marketable, whether you're skilled in HTML, JavaScript, or Python. Web developers need coding abilities to design and construct cutting-edge websites and optimise for user experience.
According to the U.S. Bureau of Labor Statistics, software developer positions are expected to rise by 21% by 2028, far faster than the typical occupation.
This growth will probably slow down during a recession but won't stop. There will be a demand for programmers and developers now and in the upcoming months and years. Additionally, companies may find you much more appealing if you are proficient in a programming language.
5. CLOUD ARCHITECT
This year, the cloud is most likely to experience IT growth. Since businesses have invested significantly in cloud services and platforms, much IT work is now completed on the cloud. Even during a recession, many people will want to expand such investments and pay for current deployments.
Cloud architects are more concerned with the broad picture than cloud administrators are with the details. They must plan for cloud adoption, create architecture, and ensure staff members adhere to best practices.
During cloud adoption, cloud architects are also in charge of connecting with other departments. Their responsibilities are essential, especially as companies seek greater returns on their cloud expenditures. Whether employees "buy in" to a cloud strategy is frequently up to the cloud architect.
6. RISK MANAGER
Organisations must make wise investments, particularly during a recession. An IT risk manager assesses technological strategy and investments. They foresee potential problems and develop strategies to reduce corporate risk. Some also control non-compliance risk, ensuring businesses follow the law and adhere to industry standards.
A rigorous risk assessment must be carried out to recognise, evaluate, and control hazards. This is especially important in times of crisis because many organisations cannot afford to suffer further financial setbacks.
During a recession, new investments must be carefully considered. Making better-informed judgments can benefit the company if it knows and understands the risks associated with such investments.
7. DESK SUPPORT / TECH SUPPORT
The use of technology does not stop during a recession. Professionals who work at help desks and tech assistance will thus always be in demand.
Although IT personnel may be tech experts, the rest of the firm may not benefit from their knowledge. Everyone at work knows someone who constantly needs assistance entering onto Zoom or changing their passwords. Internal help desk specialists can aid with that.
The demand for tech support specialists arises when anything fails. They install and configure gear and software and diagnose and repair network faults.
Technological problems would delay business operations without a help desk and tech assistance. Therefore, these responsibilities remain vital even if a business is forced to shrink.
8. ADMINISTRATOR OF DATABASE
It's important to handle the growing volume of data stored in the cloud. That is what database administrators do.
Database administrators arrange the data and ensure its security while data analysts analyse it. They must also provide the data is backed up in case a recovery is necessary.
Database administrators can do their duties more effectively and with less effort if they have particular abilities. For instance, mastering SQL will make creating and maintaining more extensive databases easier. Employers will be looking for this skill set in a database administrator.
9. DEVOPS ENGINEER
According to Glassdoor, a DevOps engineer is the sixth greatest job in America. The position calls for the administration of IT infrastructure and control of software code releases.
Many enterprises have embraced DevOps to enhance communication between IT operations and software development. Puppet and DevOps Research and Assessment survey of over 25,000 IT experts found that high-performing companies that adhere to the DevOps concept deploy 200 times more frequently and with 2,555 times shorter lead times.
DevOps advantages are impossible to deny, so DevOps engineers have risen to the top of the list of sought-after IT positions. These experts will automate software deployments with the least possible impact on the current infrastructure.
10. PORTFOLIO/PROJECT MANAGER
In the following months, costs will be a top priority. Based on changing corporate goals, more projects could be lowered in priority. The ongoing initiatives must thus be managed effectively and wisely. Project managers must maintain an open line of communication with decision-makers and ensure that goals are reasonable and realistic because resources and funding may be restricted. Overpromising and underdelivering are not appropriate at this time.
For portfolio managers, this involves deciding what is and isn't significant and matching the components of a portfolio with more general aims. IDC advises dividing the portfolio management stages into "do now" and "longer-term" activities, with the longer-term activities having the potential for automation over time.
To help layoffs affected people, Tech Jobs Fair has launched a reverse recruitment platform called Hire Tech Talent, where these people can create a one-time profile and after profile verification, Tech professionals can receive job invitations from tech companies, and Jobseekers can accept or reject companies offers based on preferences and get hired quickly. The idea is to have one profile that enables thousands of opportunities with the addition of joining multiple Tech Jobs Fair events in different countries.
Conclusion
The recession of 2023 has caused a lot of damage to economies worldwide, and it's had a significant impact on businesses and industries. The IT sector has seen its fair share of struggles, but it's also had some significant job roles that have stood the test. We need tech and skilled IT professionals to stay ahead of the curve and help us overcome this challenging time. Investing in innovation, cost-cutting strategies, and investing in the right IT roles is key to making it through the recession and getting back on track.
Join 20,000+ Subscribers
Get exclusive access to new tips, articles, guides, updates, and more.