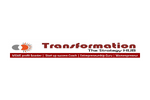 Company Size: 2
508,VCCI Building, Above SBI, Makarpura GIDC, Vadodara-390010
Founded: 2019
The Transformation has started with a mission of assisting Entrepreneurs in growing beyond their current stage and sustaining the same in the long run. Each business has the potential to multiply with the help of the right strategy, focused marketing plans, competitive input cost, and right decision at the right time, which helps to stay ahead of the competition. We support the ENTREPRENEUR to connect these dots and chalk out the growth plan.
Transformation assists companies in establishing growth-oriented marketing and Branding strategy, achieving a quantum reduction in input material cost, and improving operational efficiency and profits with a long-term sustainability model.
The ultimate goal of any business is to make a profit, and we strive to increase your profit. The reason for the startup and existence of any business is profit. We are passionate about transforming your business in terms of increased profitability and business growth, whether a startup or MSEs ( Micro and Small Enterprise).
Our services provide you with best-in-class customized tools, techniques, and approaches to meet the needs of increasingly demanding and transitional organizational and business challenges.