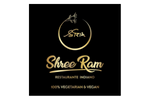 AVENIDA DUQUE DE AVILA NO. 11-13, 1000-138 LISBOA
Located in the heart of Portugal, the restaurant, which is named after Indian Hindu Lord Shree Ram, is offering a perfect blend of Purely vegetarian and traditional food of Incredible India which is made using dairy products only.
This well-being, recreational and gourmet restaurant is established by the visionary entrepreneurs par excellence Mr. Dharmesh Parekh and Mrs. Alpa Parekh. The couple's business acumen and enterprising attitude is remarkable. It will give Portuguese a glimpse of authentic Indian taste specially Gujarati Surti taste which represents the diverse culture and vibrant tradition of INCREDIBLE INDIA!!!