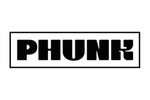 Company Size: 2
Rua Vitor Cordon 10A
Founded: 2021
PHUNK wants to offer Functional Fun – all the buzz of alcohol without worrying about calories.
PHUNK believes it´s time for a change. Change our habits, what we drink and most of all, the future. We all like to have fun and we want to keep doing it, but we need more. We need a fresh and innovative drink that mixes fun and wellness.