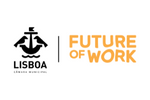 Company Size: 5001-10000
dmei.deee@cm-lisboa.pt
Founded: 2019
How and where will we work in the future? What skills should we have to be relevant and competitive? How to prepare companies for emerging challenges? Are people aware of what the market is looking for today, its potential and the challenges that await them in the future?
The Future of Work initiative, of the Lisbon City Council, Municipal Directorate for Economy and Innovation, was born out of Lisbon's need to position itself with regard to the future, in terms of employment and employability, and to develop lines of action that allow it to anticipate trends and pursue desirable futures for the city's economy.
The investment in strategic partnerships has allowed the development of programs and initiatives that promote the creation of more and better life and employment opportunities and enhance the attraction and development of individual and organizational talent and the construction of a more inclusive, humanized, qualified and competitive.
It seeks to look to the present, think about the future and explore possible paths, encouraging a proactive and collaborative attitude with the main actors in the territory.