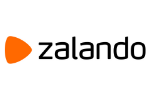 Company Size: 15000+
Zalando SE Valeska-Gert-Straße 5, 10243 Berlin
Founded: 2008
Zalando is Europe's leading online platform for fashion and lifestyle. Founded in Berlin in 2008, we bring head-to-toe fashion to 45 million active customers in 23 markets, offering clothing, footwear, accessories and beauty. The assortment of international brands ranges from world famous names to local labels.
Our platform is a one-stop fashion destination for inspiration, innovation and interaction. As Europe's most fashionable tech company, we work hard to find digital solutions for every aspect of the fashion journey: for our customers, partners and every valuable player in the Zalando story.
Our goal is to become the starting point for fashion. Our logistics network with 13 centrally located fulfillment centers allows us to efficiently serve our customers throughout Europe, supported by warehouses in Italy, France, Poland and Sweden with a focus on local customer needs. We believe that our integration of fashion, operations and online technology gives us the capability to deliver a compelling value proposition to both our customers and fashion brand partners.
Zalando's shops attract more than 560 million visits per month. So far in 2020, more than 85% of traffic came from mobile devices, resulting in 45 million active customers by the end of the quarter.