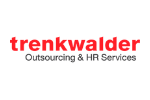 Company Size: 6.100
Trenkwalder Personaldienste GmbH, Rennweg 97-99, Kern 8/6.OG, 1030 Wien, VIENNA/AUSTRIA
Founded: 1985
Trenkwalder is Austria's market leader in the personnel services industry. We support you with information on personnel consulting and temporary employment, provide tips on the design of your application documents, help you find vacancies and inform you about your opportunities on the labor market. At Trenkwalder, we are fascinated by everything related to career and perspectives. We are convinced that you should only do what makes you happy. We have found our calling: We have been successfully bringing people and companies together for over 35 years.
In addition to a wide range of interesting jobs, we attach great importance to occupational safety, health and safety at work, full social security such as personal support and consulting. You enjoy 360° support from your personal career coach, who also cares for you after finding your dream job. Just one application opens up numerous career opportunities. You benefit from many employee advantages, our contacts to 2,500 top companies throughout Austria and have access to interesting job offers before they are published on the job market. We ensure a better WORK-LIFE-BALANCE!
We are always looking for special talents for our candidate pool. With your personal professional experience and corresponding know-how, you can join us in a wide variety of areas and industries – whether in SMEs or in international companies. We are looking for candidates professionalized in areas such as IT, Finance, Administration, Technology, Sales and many more. Does this sound interesting to you? Get in touch with us! We are looking forward to getting to know you!
Only when you, as an employee, are truly satisfied with your career, have we done our job well.