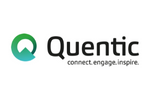 Company Size: 270
Gürtelstraße 30
Founded: 2007
We are Quentic
Our success is built on committed and motivated employees. Therefore, it is part of our mission to keep the quality and satisfaction of our teams at a high level and to continuously work on further expanding it. This results in a pleasant working environment, individual training opportunities, and a healthy work-life balance.
We are continuously growing and always on the lookout for new creative minds who can work with customers from plant engineering and construction, suppliers and waste disposers, and/or from the metal and the automotive industry, etc. to turn our software projects into reality. Whether you are a professional, young professional, student or intern Quentic offers custom entry opportunities and appreciates also unsolicited applications at all times.
Our SaaS Solution
Quentic is a product of Quentic. As a growth-oriented company, we have become the industry leader in standardized EHS software solutions since our founding in 2007. We work closely with our customers to develop software solutions that are characterized by simple handling, the highest security, and maximum adaptability for individual company processes.
Our Quentic software is a unified platform for all tasks, data and information on health, safety and environmental protection. It helps our customers enormously to manage their companies cost-efficiently, securely, sustainably and in an environmentally-friendly way. Moreover, the software is suitable for management systems according to ISO 14001, ISO 50001 and ISO 45001, which has been officially approved by DEKRA Assurance Services GmbH. Our experienced team has the whole range of professional qualifications needed to provide consistently high-quality service to all our clients. In order to reinforce our dedication to quality, we have set up our quality management in accordance with the recognized standards and have received the ISO 9001 certificate.
Data and information security are important components of our corporate and product strategy. Therefore Quentic GmbH is certified according to ISO/IEC 27001 for its IT services, consulting, and online deployment of its Quentic software.