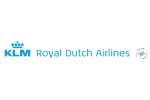 Company Size: 30.000
1095, Budapest, Lechner Odon fasor 7., MTII
Founded: 1919
Carrying 34.1 million passengers and 621,000 tonnes cargo,via a vast network of 92 European cities and 70 intercontinental destinations, KLM offers direct services to key economic centres all over the world.
Based on the principle that our people are the key to our brand, we are convinced that we can make the difference by consistently offering our customers and employees a memorable experience. This ambition is in our DNA. Thanks to the sincere attention we give our passengers, they feel acknowledged, contented and at ease.