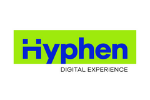 Company Size: 31
Rua Dr. Sobral, nº 13; 6260-184 Manteigas
Founded: 2015
Since 2015, Hyphen's mission is to create great digital experiences, connecting the right professionals to the best digital transformation projects. We've been helping companies grow in the digital world, from banking to IT and telecommunications. We're not just a company but a global community of digital experience creators, working from anywhere to everywhere.
Hyphen is part of Group Tangível since 2017.