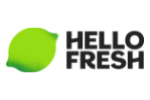 Company Size: 20000+
HelloFresh SE, Prinzenstr. 89, 10969 Berlin
Founded: 2011
From our 2011 founding in Europe's vibrant tech hub Berlin, we're evolving from the world's leading meal kit company to the world's leading food solutions group. We delivered 287 million meals and reached 8.5 million active customers around the world in Q1 2022. HelloFresh Group consists of six brands that provide customers with high-quality food and recipes for different meal occasions. Every ingredient needed for our meals is carefully planned, responsibly sourced and delivered to your door when it's most convenient for you. Making a meal a delicious achievement – not just fuel for your day – takes a lot of work and smart people.
From Designers and Copywriters to Data Scientists and DevOps Engineers, to Recipe Developers and the people who ensure every box is perfectly packed for every customer, we're collectively disrupting the food supply chain and the multi-trillion-dollar food tech industry. Our more than 21,000 high-performing and ambitious employees across the globe from New York to Berlin, London to Sydney and Tokyo to Milan enjoy a number of benefits including flexible working arrangements, discounts on our boxes, health and well-being and learning and development programs. We're always looking for quality ingredients to perfect our recipe, so join us now!
Our Tech Stack
HelloFresh is a company with tech at its core. With HelloTech we have a major in-house tech force that supports every team at HelloFresh. HelloTech leverages a diverse tech stack to not only build an appealing and personalized user experience for six global brands, but also to create cutting-edge operations solutions that disrupt the traditional supply chain. HelloTech works with the programming languages Golang, Kotlin and Python. Our cloud provider is AWS and the team uses Terraform, Kubernetes, Apache Kafka, Databricks, Airflow and Snowflake among others. On the front end, we use JavaScript, React and Kotlin among others. Check out our HelloTech blog to get a taste about the way we work!