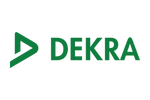 Company Size: 48.000
DEKRA Akademie Kft. 1158. Budapest Vasgolyó utca 2-4.
Founded: 1925
On the road, at work, and at home, millions of people around the world rely on DEKRA's expertise since its foundation in 1925. The organization is fulfilling its corporate mission of improving safety and therefore is DEKRA synonymous with innovative services in the safety segment. The company has a clear and ambitious vision of the future: for its 100th birthday in 2025, it will be a global partner for a safe, secure and sustainable world.
Its subsidiary DEKRA Akademie Kft. has been present in Hungary since 1997 and aims to offer vocational training based on the needs of companies and the labour market that provides a broad range of professional knowledge and skills required to fill in-demand jobs.
In 2020, DEKRA IT Nearshore Center EMEA opened its doors to support and develop the IT infrastructure of the entire company on a global scale, across all continents. The Center's activity covers several core areas, allowing internal know-how to be shared between all the employees. Next to the infrastructure topics, such as network and cloud, it has new services, such as SAP or global HR.