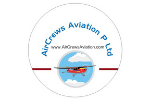 Company Size: 28
203 Royal Regency 7 Shikshak Nagr Royal Regency
Founded: 2018
AirCrews Aviation Pvt Ltd is a Newly Incorporated Aviation Service Providers of India. AirCrews Aviation Pvt Ltd is duly registered with Govt Of India, Ministry of Corporate Affairs to run various Aviation related Services. AirCrews Aviation Pvt ltd is Incorporated to Boost and Aggregate various Aviation Service Providers. We welcome All Aviation Organisation to Join us as our Partner in Progress in Aviation. We are looking for Ab-initio Pilot Training, TRTO, Air Charters and Air Crew HR Organisations from all over the world.
In Year 2020-2021 [As per Bing, Google and Yahoo ] AirCrews Aviation Pvt Ltd is a
Asia's Biggest Online Aviation Internship Provider.